The Casa de Oro Alliance is a California Public Benefit Nonprofit Organization and a 501(c)(3) tax-exempt corporation, and your donations are tax deductible. We are committed to the economic and social development of our community, and in addition to community grants which help us accomplish our mission and goals, we rely on the generosity of local businesses and residents.
View our profile on Guidestar.org
To donate to the utility box decoration project, this link will take you to our PayPal donation page for a Historical Spring Valley-themed box, and this link is for a utility box that will be decorated with art from Spring Valley Academy students.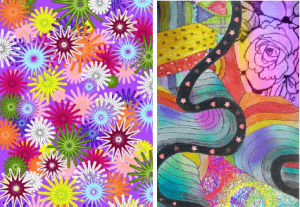 We are currently raising $676.00 for the utility box near Grecian Cafe
 You can also donate to a general fund for all the boxes. Just think how wonderful Campo Road will look once we finish; something which YOUR generosity made happen! Our undiscovered Casa de Oro gem in East County is slowly being transformed thanks to the Beautification Committee of the Casa de Oro Alliance.
To request a receipt, donate through other means, or contribute to a different project, email us at casadeoroalliance@gmail.com 
Wrapped Utility Boxes

Several utility boxes are brightening up Campo Road! Pictured "Lipstick Hibiscus" (photography by Lee Sie) donated by Bob and Holly Yarris
Have you noticed the beautiful utility box wraps along Campo Road? With the help of some wonderful donors, Casa de Oro Alliance volunteers and the talent of photographer Lee Sie, we can brag that we have finished EIGHT boxes with the beautiful names of:

Upsy Daisy (donated through a Casa de Oro Alliance GoFundMe campaign)
Aeoniums (Joan Forbes)
Lush Lantana
Lipstick Hibiscus (Bob and Holly Yarris)
Agave Gold (Dr. Curtis Howard, DDS)
Breath of Heaven (CDOA GoFundMe campaign)
Bird of Paradise (Joan Forbes)
California Dream (Vince and Wanetta Sherrod and Lyn Earl).
We are very grateful to or donors and volunteers, as well as the photographer Lee Sie, our consummate artist and wrapper. Besides the beauty these boxes bring to the community, we hope they will help reduce graffiti tagging. Things are lookin' up!
Be on the look out for new banners hanging from the light posts along Campo Road! These will be changed out seasonally. We also have new potted trees and succulents: this was a 2-day project that took the effort of many volunteers….a huge thank you to everyone involved! If you would like to adopt some planters to care for, please send us an email
Coming soon (pending board approval and available funds):
Utility box near the Pho & Grill/Grecian Cafe at Campo Road / Conrad Drive (Design by Jack White, SV Academy art teacher and students; photographed by See Lie)
Utility box near the Welcome to Casa de Oro sign (historical panorama with photos of Spring Valley; to be produced by Lee Sie
Two more traffic light boxes—at North Granada and Agua Dulce Blvd.